Public Works Department
The Village of Mannville Public Works Department is responsible for a wide variety of Village issues most of which are listed below:
Water and sewer
Garbage
Roadways and alleys
Snow plowing and removal
Parks and recreation
Summer student employment
Cemetery
Contact Information
Tel: (780) 763-3882 Public Works Shop
Tel: (780) 763-3500 Village Office
Fax: (780) 763-3643
Email Public Works Department
Hours of Operation
Monday to Friday
7:30 AM to 12:00 PM
12:30 PM to 4:00 PM
Water and Sewer
Mannville's water effective November 20, 2013 is supplied with Alberta Central East (ACE) water system.
Mannville sewer is gravity flow to the lagoon located north-east of the Village.
Mannville Waste Transfer Station Information
The site is located 1.5 miles west of the Village of Mannville on Mannville Road and Range Road 92.
Annual Waste Transfer Station Hours
Monday and Wednesday from 10 AM to 1 PM Closed All Holidays
Saturday from 10 AM to 4 PM  (Summer Hours include an extra day which is Friday from 10 AM to 4 PM
Garbage
Pick up day for everybody is Wednesday.
Used oil, filters, oil jugs and batteries can be recycled at UFA in Mannville.
Recycling
Used oil filters, oil jugs and batteries can be recycled at UFA in Mannville.
Blue bag recycling pick up first and third Tuesday's of every month. Please have bags out at 7 am for pick up.
Roadways and Alleys
Public Works is responsible for maintaining the asphalt roads by crack-filling and the gravel roads and other graveled areas by grading as required.
Snow plowing and Snow Removal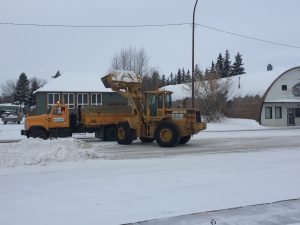 Snow plowing is done whenever required. Main street is done first and the snow is hauled away. Second priority is the Avenues and third priority is the residential areas. Sanding is done whenever required.
Recreation Centre
The recreation Center consists of a hall, hockey arena, curling rink, fitness center and conference room. The public works department makes and maintains the artificial ice in the hockey rink and curling rink. They also maintain the hall and conference room for weddings, meetings and other functions.
The hockey rink is an official size arena with an 85 foot by 200 foot ice surface. It is the home of NHL greats Mike Rathje and Kyle Calder.
The curling rink has three sheets of artificial ice and a modernized viewing and lounge area.
The newly modernized conference room can hold up to 40 people for meeting activities and has provisions to serve a lunch.
The modernized hall is air conditioned and has a seating capacity for 450 people and a wonderful hardwood dance floor for weddings and other functions.
Parks and Recreation
Mannville had 4 ball diamonds with shale for use in the summers. These were formerly used for the Mannville Mammoth Softball Tournaments.
Mannville has a Mini Golf facility that is open to the public at a cost of $2.00 per day.
Summer Student Employment
The summer students assist in the following ways:
Maintaining parks
Maintaining recreational facilities
Crack filling roadways
Many other jobs
Cemetery
The Cemetery is maintained by the Village of Mannville Public Works Department and sub-contractors.